We're sorry, registration is closed! If you want to receive an update about the next TTD, please let us know!

On the 12th of February 2016 the Transition Academy hosts an intensive training day on Transition Research.
The Transition Training Day offers an interactive one-day programme where junior researchers and professionals with a research interest can explore the diverse angles of transition studies.
Our group of experienced teachers, led by Academic Director dr. Flor Avelino, will enthusiastically guide you through the landscape of transitions. Offering both in depth theory as well as interactive practice and discussions, the programme promises to be as confusing as inspiring – two good reasons to stay for drinks after.
For who? We invite all (post)graduate level students, researchers and professionals interested to learn more about sustainability transitions. In past years, students, researchers and professionals with backgrounds in political & social science, economics & business, governance, technical and gamma studies joined the course. We invite participants from both Non-EU and EU countries to join us.
Transition studies comprise a field of academic research that focuses on processes of long term change towards sustainability. DRIFT (Dutch Research Institute for Transitions) specialises in Transition Management and Action Research: the translation between scientific research and practical action.
Transition management is an innovative governance concept based on complexity theory, social theories and insights from the field of governance. It aims to deal with persistent societal problems by exploring and furthering more sustainable systems.
Programme and format

Throughout the Transition Training Day there will be a series of lectures and workshops, given by renown transition scholars from DRIFT. There will also be plenty of time for discussion and questions. Participants are encouraged to reflect on their own (future) research in in relation to transition studies and action research. The programme offers time to actively discuss these reflections with Prof. Derk Loorbach, Flor Avelino and Rick Bosman.

Location: Erasmus University Rotterdam, Burg. Oudlaan 50 (Woudestein) te Rotterdam
The programme (to be confirmed):
| | |
| --- | --- |
| Time | Programme |
| 9:00 | Walk-in with coffee and tea |
| 9:30 | State of the art: transitions (part 1), Dr. Flor Avelino |
| 10.30 | Short group practice |
| 11.00 | Coffee Break |
| 11.10 | Reflection on Group Practice |
| 11.20 | State of the art: transitions (part 2), Dr. Flor Avelino |
| 12.30 | Lunch |
| 13.15 | Action/Transition Research in Practice, Rick Bosman |
| 14.00 | Group discussions: 4 elements of Transition Research – Power&People, Experimenting, Monitoring and Governance |
| 14.40 | Reflecting on group practice |
| 14.50 | Coffee Break |
| 15.00 | Question Harvesting |
| 15.15 | Transition management, Prof dr. derk Loorbach |
| 15.45 | Transitions and your own research, Prof dr. derk Loorbach |
| 17.00 | Drinks |
The Participation fee (including coffee, lunch, and informal drinks) is €45 for Master students & 3rd year Bachelor students, €85,- for junior researchers and PhD students and €155 for professionals.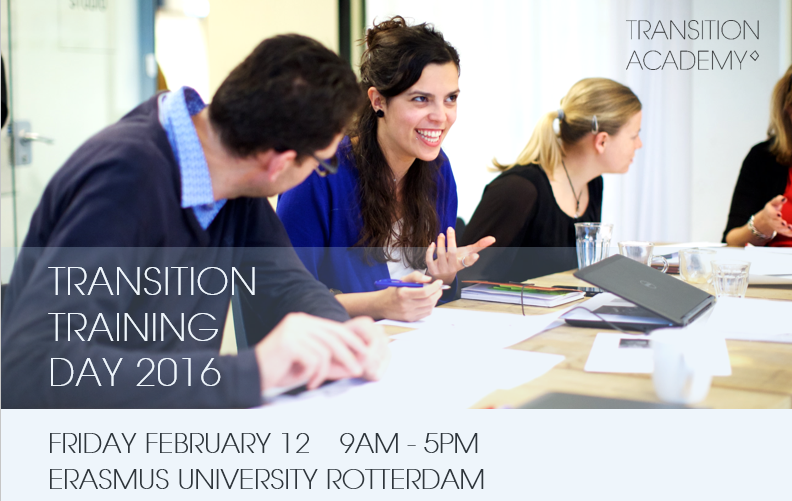 Original photo: CC BY 4.0 Sebastiaan Ter Burg